The Nightcrawler series of unmanned ground vehicles were a special project created for USSOCOM's Subterranean Warfare Group to help identify and find adversaries in cave and tunnel missions without the need of putting the operator in harms way.
Nightcrawler achieves its mission by the use of our proprietary Thermal / Optical camera fusion. Instead of a user needing to alternate between a thermal view and an optical view, we programmatically isolate thermal pixels within a defined density and overlay them directly on top of the optical stream. The result is the ability to see the environment while also being able to see the thermal signatures of only relevant object, such as a human being.
Nightcrawler V3 was build "Comms Agnostic" – this was a deliberate choice to provide flexibility for our operators. By allowing them to use any IP based radio system, the user was not required to purchase anything that was not included within their already used field package.
Our operators used the MPU5 radio system for our field testing, which provided excellent results. The initial ask from USSOCOM was for the unit to be able to reach a minimum of three non line of sight curves in a comms denied environment before needed a radio hop. Nightcrawler V3 was able to traverse the entire testing complex between two radios.
"Nightcrawler clearly gives us an operational advantage in SUB-T"
To operate Nightcrawler, we utilized the already in use military application ATAK by writing a custom plugin. The plugin allows a user to view and control Nightcrawler by employing the use of standard Xbox controller. By using such commonly known hardware, training on how to operate Nightcrawler took only minutes.
After spending weeks in the field testing with the actual operators, we gathered important feedback on how to improve the unit to be battle ready. Through this observation we also noticed inefficiencies in their current CONOPs we knew we could improve on. One glaring example was how they were doing SUB-T mapping – a series of radio calls on movements and hand generated maps. After watching dozens of runs, we could instantly tell that each map, while having similar shapes, were different from each other. By providing Nightcrawler with a simple OTS LiDAR system, we were able to generate a clean 1 to 1 map of the environment.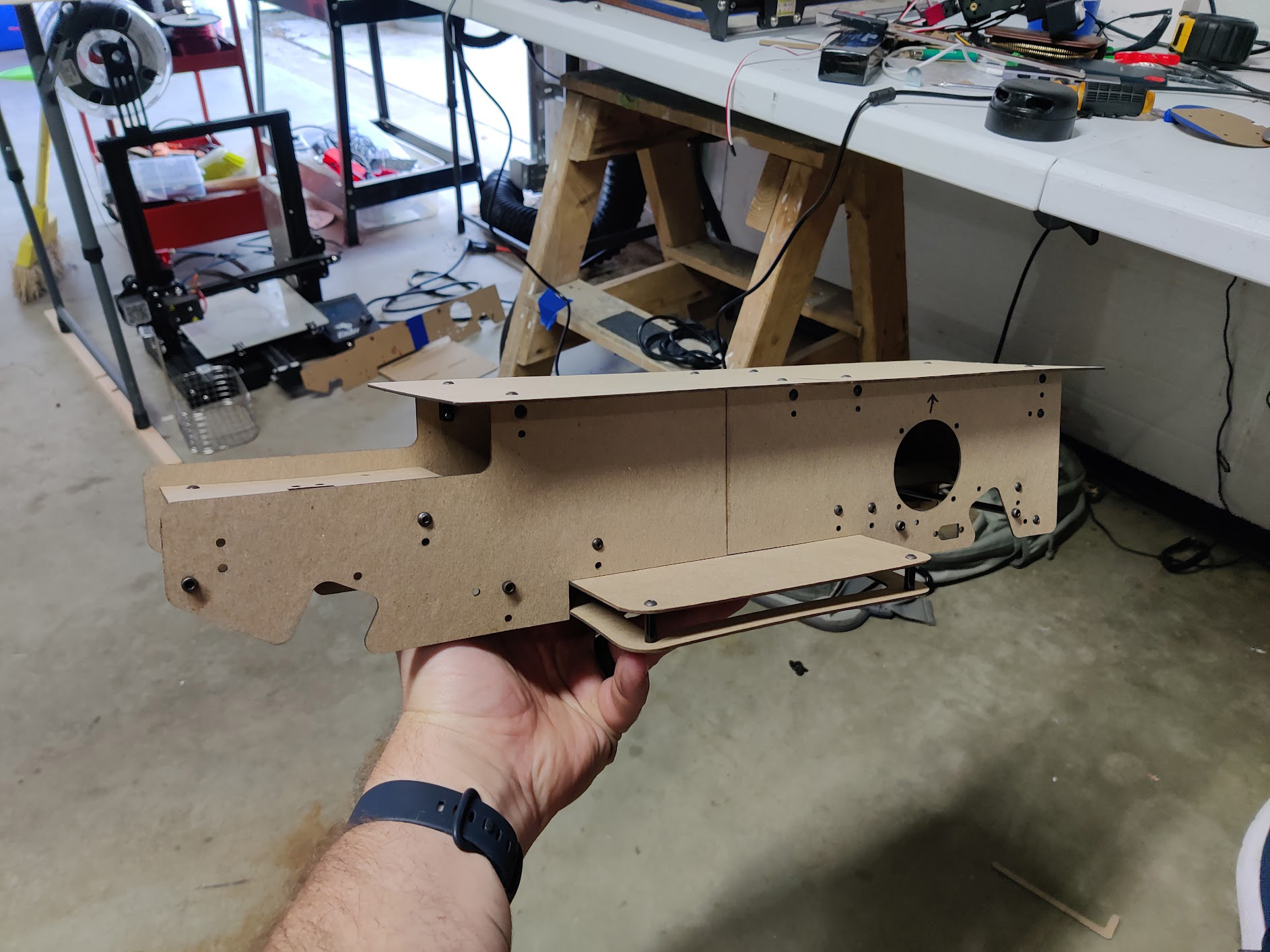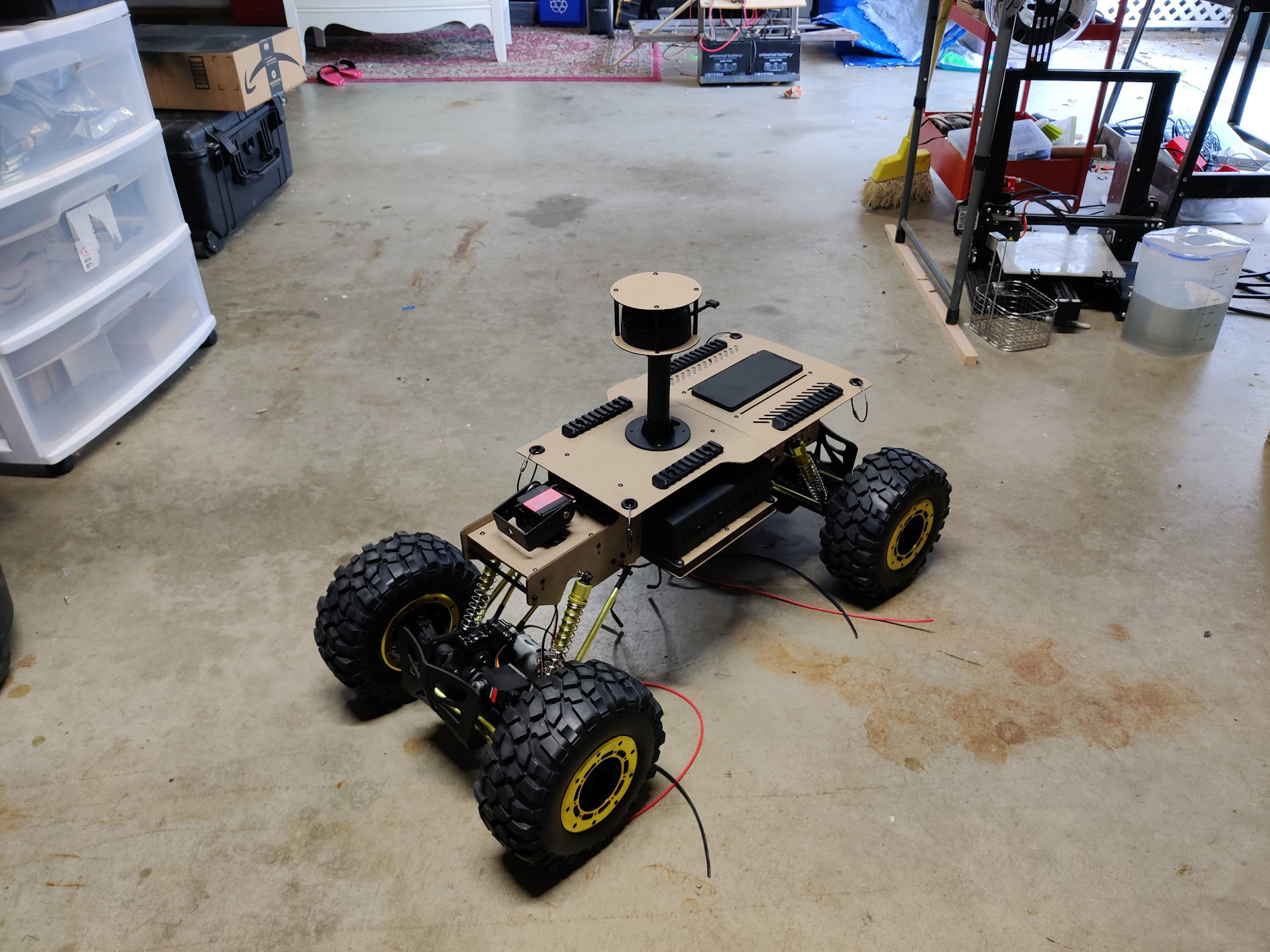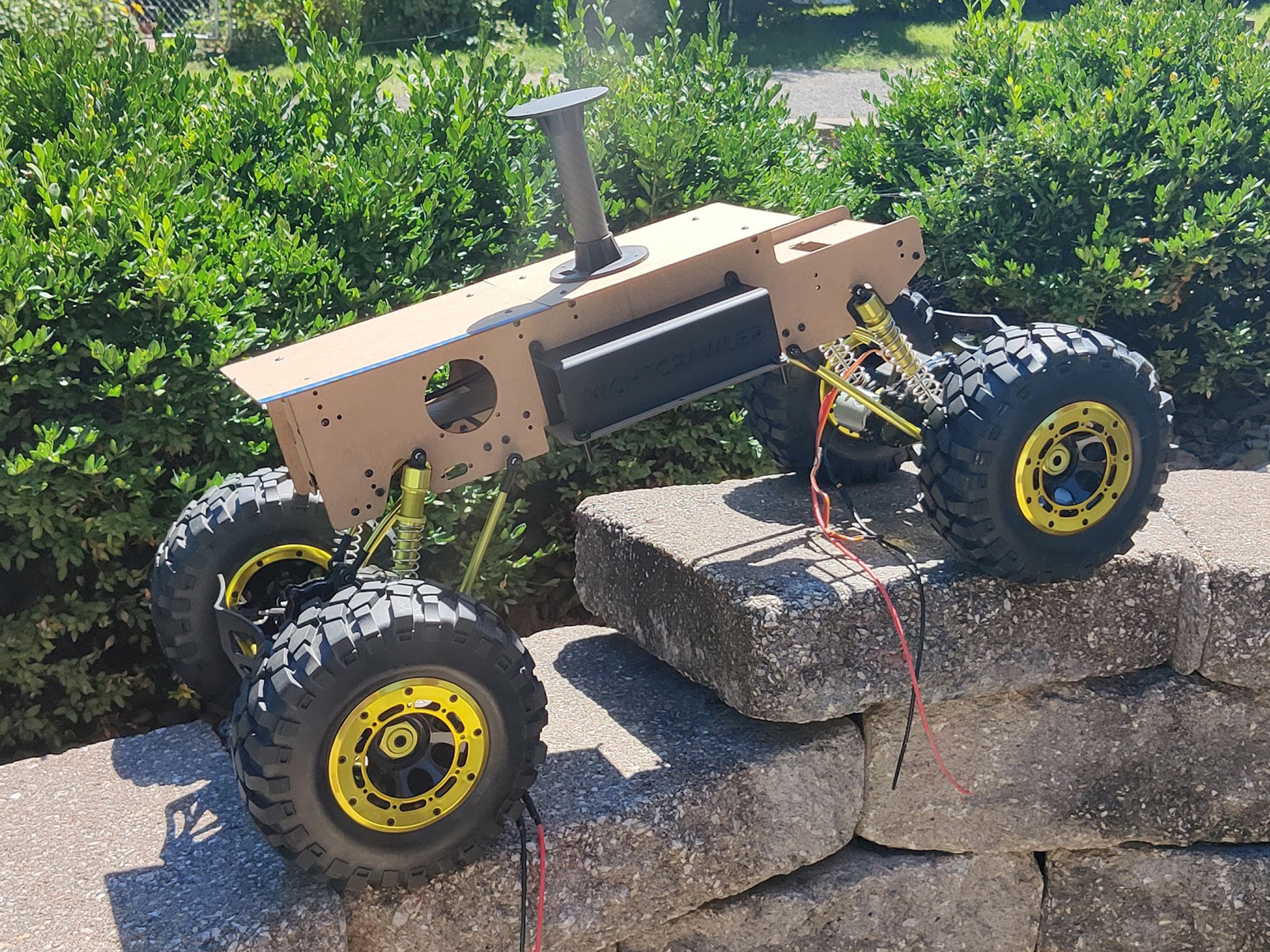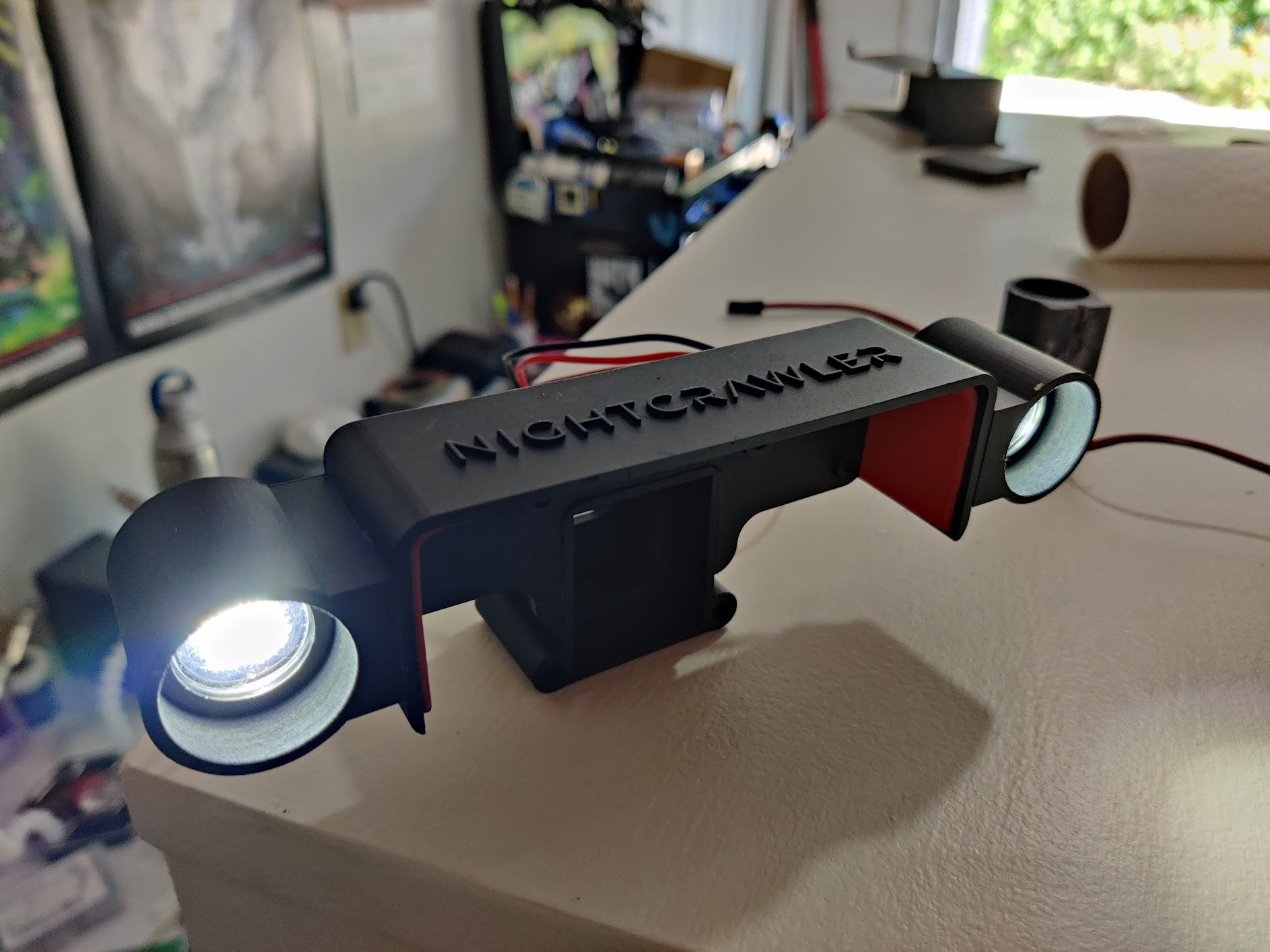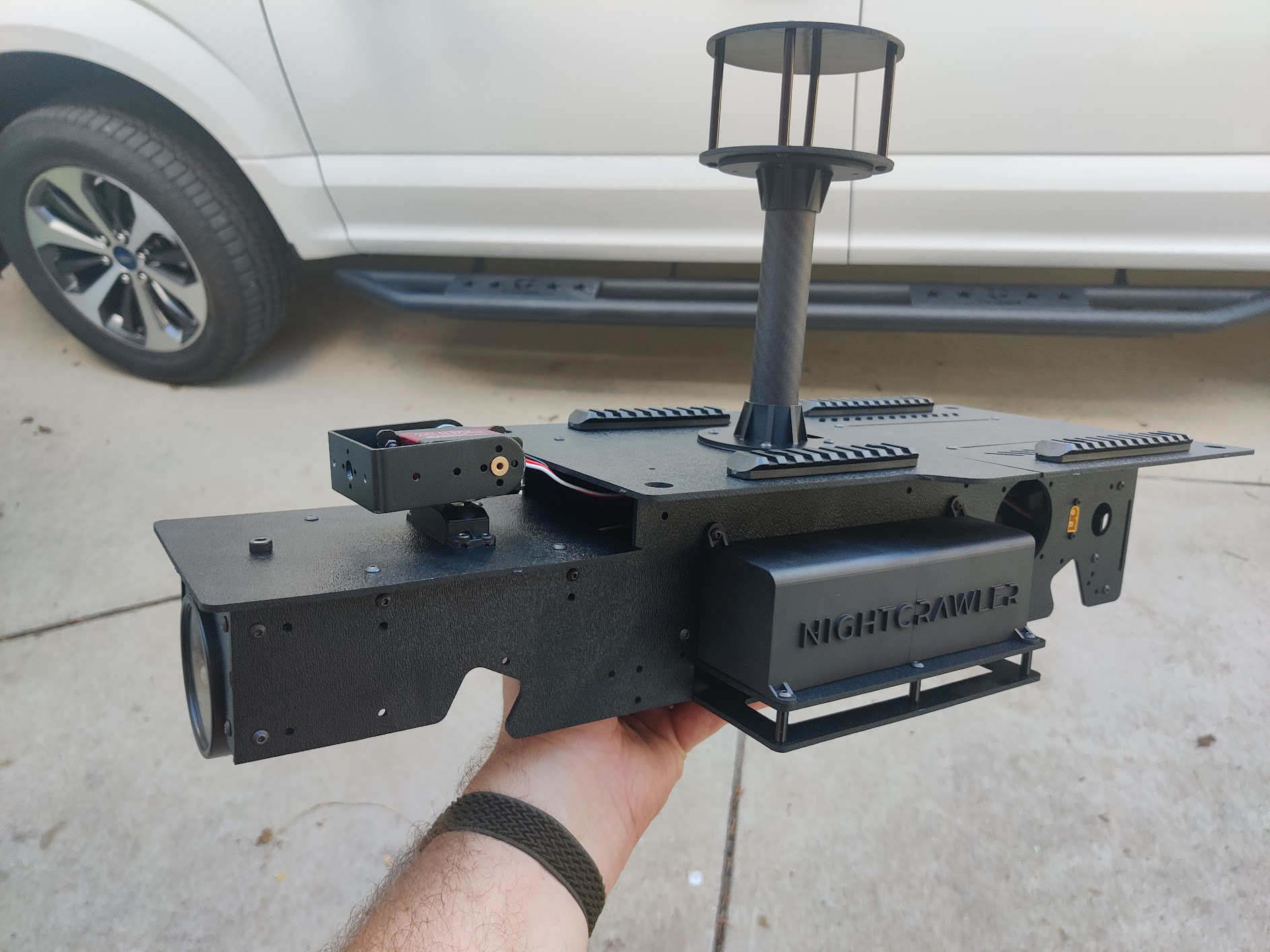 The entire construction of Nightcrawler V3 was completed in my garage shop while being isolated during Covid-19. The process of building involved creating 2D CAD files and laser cutting them out of chipboard at a 1 to 1 scale and building a replica model of the entire unit. Once all the parts were to spec, they were laser cut out of 4mm ABS sheets and bolted together. For the camera head and battery compartments, I utilized SLA 3D printing methods with an advanced engineering resign for strength and durability.
The unit was built around an OTS RC chassis. This was done so for multiple reasons. Using OTC drive parts allow the user to be able to field service Nightcrawler on their own without the need for a technician. The parts are cheap and easily replaceable and because our operators will be using this in various parts of the world, parts are accessible in any country.
Nightcrawler V3 features the following:
Front and Rear Depth Cameras
Thermal / Optical Camera Fusion
Independent 4-way steering
Nightcrawler V3 continues to be tested and has garnered international attention for further use. Development on this unit has been halted though in favor of Nightcrawler V4, a larger production ready unit with multiple use cases. .